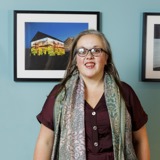 GEMMA HICKS
Gemma was born and brought up in Pembrokeshire and all her family still live locally. Gemma is the Community Engagement Senior Producer at Wales Millennium Centre and now lives in Barry with her partner and two young girls.
Gemma was a child of the Torch Youth Theatre and is really passionate about the Torch and what it offers to people in Pembrokeshire. She is particularly keen to support communities to get involved in the arts in Wales and thinks the Torch is the perfect place for this, she can't wait to get more involved!'
TORCH THEATRE NEWSLETTER
Get in the Spotlight!
Want to be the first to hear about upcoming performances, exclusive ticket offers, and behind-the-scenes action at the Torch Theatre? Subscribe to our newsletter and let the drama come to you.