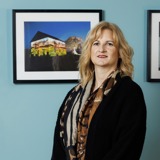 JO HENDY
Jo is a Chartered Auditor qualified in risk management, data protection and a part-qualified Accountant, with a wealth of experience in governance, internal control, risk management, financial management, data management, transformation and improvement, and programme and project management.
Formerly the Chief Audit, Risk & Information Officer and Digital Transformation Programme Executive Sponsor at Pembrokeshire County Council, and Head of Internal Audit for the South-West region (partnership working). Jo has over 20 years' experience in local government and is currently Head of the Improvement Programme with the Welsh Local Government Association, leading an ambitious programme of sector led improvement across the 22 local authorities in Wales.  
Jo is also a Non-Executive Member of the Children's Commissioner for Wales Audit & Risk Assurance Committee.
As part of a large Pembrokeshire family, Jo is keen to support Pembrokeshire protect its heritage and achieve its full potential.
TORCH THEATRE NEWSLETTER
Get in the Spotlight!
Want to be the first to hear about upcoming performances, exclusive ticket offers, and behind-the-scenes action at the Torch Theatre? Subscribe to our newsletter and let the drama come to you.