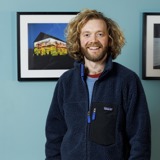 MAX MACKINTOSH
Max was born and brought up in Pembrokeshire and he has been a frequent visitor to the Torch throughout his life.
Having been a member of the Torch Youth Theatre, Max trained at the Royal Central School of Speech and Drama and following his graduation, he worked as an actor for eight years. Looking for a change, Max returned to Pembrokeshire five years ago and completed a master's degree in Social Work at Swansea University. Max currently works as a Social Worker in the locality.
TORCH THEATRE NEWSLETTER
Get in the Spotlight!
Want to be the first to hear about upcoming performances, exclusive ticket offers, and behind-the-scenes action at the Torch Theatre? Subscribe to our newsletter and let the drama come to you.