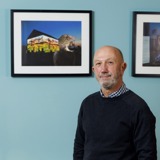 NIGEL SINNETT
Nigel Sinnett is a freelance property and development consultant having left the ateb group in 2020 where for 19 years he held the post of Group Property Services Director.
A chartered surveyor by profession, Nigel has significant strategic, asset management and development experience in the affordable housing sector. Prior to that, he worked for 9 years as a senior manager in the NHS specialising in estates management, engineering, facilities management and capital development.
Passionate about construction, housing, health, social care and the environment Nigel enjoys networking and intellectual challenge and has served on a number of Welsh Government steering groups. He is a former Chair of Community Housing Cymru's Technical Services forum and of the RICS West Wales Local Association.
Nigel is a keen supporter of regional rugby and of the arts.
TORCH THEATRE NEWSLETTER
Get in the Spotlight!
Want to be the first to hear about upcoming performances, exclusive ticket offers, and behind-the-scenes action at the Torch Theatre? Subscribe to our newsletter and let the drama come to you.