BLOG NO. 1 - GARETH JOHN BALE
The Torch is somewhere I always enjoy visiting and it is a theatre very close to my heart. Therefore, I was delighted to be asked to write this first blog for the Torch Theatre Company.
Earlier this year I had the privilege of directing at the Torch for the first time. Carwyn was a special job for me. It was a pleasure to work with the words of Owen Thomas again and Tegan James did a wonderful job as designer. Simon Nehan, a friend and an actor that I have long admired, gave an outstanding performance as Carwyn James. Carwyn was a complex and fascinating man who had a huge impact in Wales and beyond. I thoroughly enjoyed exploring the life of the man from Cefneithin and watch Simon bring him to life in such a thoughtful and moving way. As expected, the support from all departments at the Torch was superb. Expected, because of the quality associated with Torch productions, but certainly not taken for granted. 
It was fantastic to be back in the theatre after an absence of two years and I'm very grateful that everyone pulled together to create an excellent piece of theatre. We hope it will be back soon. 
From one legend of Welsh rugby to another; I'm thrilled to be bringing Grav back after a break of three years. The Edinburgh Festival Fringe celebrates 75 years this year. It is a very special festival and it will be a honour to perform Grav there during August at the Gilded Balloon. It will be lovely to share that experience with Yasemin Özdemir who will be performing Angel at the same venue. The Torch has a great reputation at the Fringe - shows like Who's Afraid of Rachel Roberts, Oh Hello and Grav have enjoyed success there in the past. Having seen Yasemin's terrific performance, I know that Angel will enhance that reputation. 
The one thing that strikes me every time I visit the Torch is the pride everyone takes in the building and the company. That is something to be very proud of and I am certainly aware that we carry that reputation as we take our respective shows to Scotland. 
It would be remiss of me not to mention Peter Doran as I'm writing about the Torch. There are others who are better placed to tell you of Peter's achievements over the years and I'm sure a lot will be said - deservedly - over the next few months. Quality productions, national and international tours and the development of the building itself are just some of the things that have happened under his watch. No one has done more to enhance the reputation of the Torch. Personally, I'm thrilled that we get the chance to do Grav again. He is a fantastic director to work for and with. Many of my happiest career moments have come in a rehearsal room or theatre with Peter. It will be lovely to create some more over the next few months. Since we first worked together in 2006, Peter has become a great and trusted friend, I wish him every happiness in his retirement. 
Love, Light and Peace,
Gareth Bale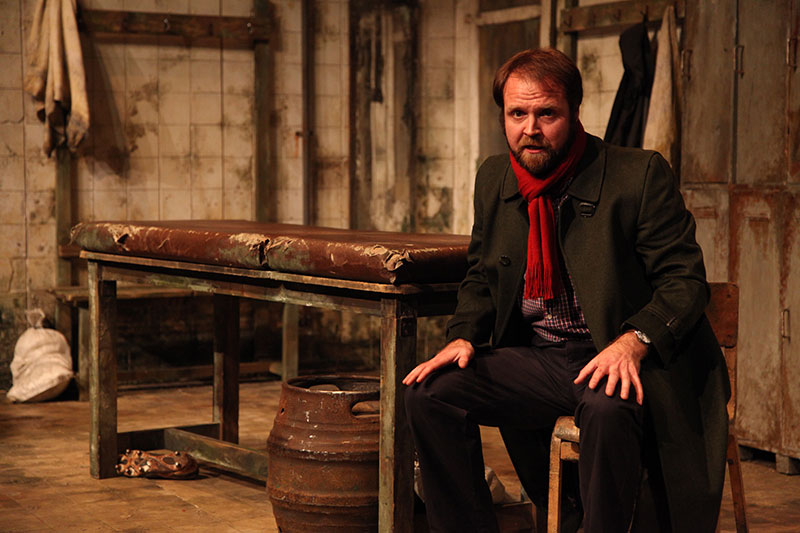 TORCH THEATRE NEWSLETTER
Get in the Spotlight!
Want to be the first to hear about upcoming performances, exclusive ticket offers, and behind-the-scenes action at the Torch Theatre? Subscribe to our newsletter and let the drama come to you.