LIMITED TICKETS REMAIN FOR THE JOHNNY CASH ROADSHOW
On Saturday 23 July, come and see the number one Johnny Cash Roadshow, the only tribute act to be endorsed by the Cash family at the Torch Theatre in Milford Haven.
Award-winning Clive John pays homage to Cash's career as the Man in Black, alongside his iconic wife June Carter (Meghan Thomas) and the Roadshow Horns.
With all the hits such as Walk the Line, Ring of Fire, Get Rhythm, Orange Blossom Special and Boy Named Sue along-side some of the darker more atmospheric songs from the later American Recordings such as The Man Comes Around and Hurt, this year's show is an emotional roller-coaster through Cash's career, packed together in one fantastic unforgettable evening's entertainment.
With standing ovations every night, the Johnny Cash Roadshow is the longest running, most recognised and still the biggest and best celebration of Johnny Cash in the world today, guaranteed to leave you wanting more.​
A brilliant show complete with two stars and a live band, it's one not to be missed!
The Johnny Cash Roadshow is at the Torch Theatre on Saturday 23rd July at 7.30pm.
Tickets are priced at £24.00 and only a limited amount remain. To book, call our Box Office on 01646 695267 or click here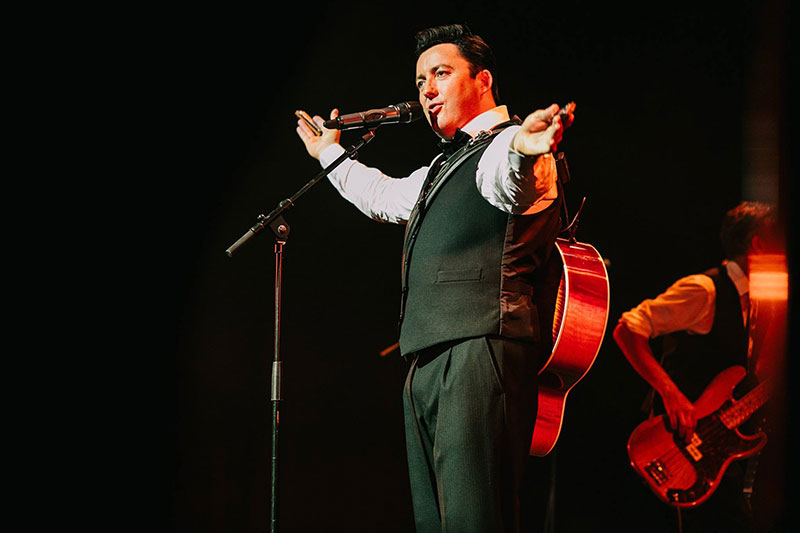 TORCH THEATRE NEWSLETTER
Get in the Spotlight!
Want to be the first to hear about upcoming performances, exclusive ticket offers, and behind-the-scenes action at the Torch Theatre? Subscribe to our newsletter and let the drama come to you.