BLOG NO. 7 - LYDIA BASSETT
I'm writing this on the day rehearsals start for our first ever production of Humperdinck's Hansel and Gretel. Today's the start of a new adventure for the cast, meeting the people they'll spend the next eight weeks working with, catching up with old friends and making new ones – very much the first day of school! By the end of March we will have performed nine shows with nine different children's choruses right across Wales.
To help us prepare in our home theatre, Hafren in Newtown, our Production Manager, Bridget Wallbank is busy with her crew building a set designed by our Artistic Director, Richard Studer. The last time we spoke she was trying to work out how to make the witch's house explode on stage! Our scenic painter, Julie Ann Heskin is creating a whole forest of trees and our wardrobe mistress Jill Rolfe is taking up orange bell bottom trousers.
When we are not on tour MWO employs four people – our Music Director Jonathan Lyness who has written a new chamber arrangement of Humperdinck's opera for 12 players to be performed by our orchestra partners Ensemble Cymru, Richard who directs and designs our shows, Bridget who builds and production manages them, and me – the fundraising/tour booking and marketing departments.
In Spring, when we're getting ready for our MainStages tour, we employ more than 40 people, from metal workers to a lighting designer (the excellent Elanor Higgins) and of course our singers and musicians. For the first three weeks of February our singers are working with Jon and Richard in rehearsal – and in the final week everything comes together on stage at Hafren with Ensemble Cymru in the pit – the final tweaks are made to the costumes and staging and we're ready to hit the road.
Our performance at The Torch is always a personal favourite for me. Last Spring when we toured La Bohememy family joined me for the show and a night in our old campervan. Not only did I enjoy a beautiful sunset through the bar windows, a breath-taking performance of Puccini's fabulous opera and some great chats with audience members, we also had a bonus morning at Marloes.
Each tour is special, we've never done a revival and each production is tailor made for touring in Wales, but this tour is extra special because in every venue we will be joined by a children's chorus linked to that specific theatre. At The Torch, we will be joined by children coached by Angharad Sanders of Torch Voices. A lot of our work is about normalising opera – opera might be the Marmite of the arts, but how do you know you don't love it if you have never tried it?
It's really important to us that children get a chance to experience opera – and we're always thrilled when children who have performed with us either on stage or in workshops come up and tell us 'I was in an opera with you'. Last Autumn, children from one of our local primary schools watched our dress rehearsal for Puss in Boots. One of them loved it so much he came back on opening night with his mum and sister – that is how we build audiences for opera!
Angharad's positivity and her passion for supporting young singers to take their first steps as vocal performers is a perfect fit with our work and we're delighted to have her working with us. We're excited to see a different performance every night on tour as our children's choruses perform a newly commissioned Welsh language version of the final scene from the opera, written for us by Machynlleth based tenor Robyn Lyn Evans (Rodolfo in last year's La Boheme).
While we're busy on tour, our education team – better known as award winning Powys based composer Ian Morgan Williams and tenor Huw Ynyr from Dolgellau – will be working in schools across Powys to introduce primary school pupils to the joys of opera. Each year our education work includes both workshops in primary schools and a whole week residency where we take over the school curriculum and the children write their own opera from scratch. Our residency week is another team effort – with Jon and Richard working with the children for a full week alongside two singers and me in the costume department, creating a whole costume set from fabric scraps and whatever we can find in our store – full marks definitely to the young boy a couple of years ago whose dad owned a sari shop and brought in old sample books, we could have stayed and played for months and that year's 'butterflies' had extra sparkle.
We will be back at the Torch on Thursday 16th March. Hansel and Gretel is a Grim(m) fairytale – and we're suggesting it's suitable for anyone over the age of eight. For those who, like me, watched their children in school in panto pandemonium the story is familiar "Hansel and Gretel are twins from Bavaria. Its quite a fearsome and frightening area Fairy tales just don't get much scarier In the Bavarian woods"
We have a wicked witch (doubling as the children's mother) and performed by soprano Rebecca Afonwy Jones making her MWO stage debit despite living just eight miles from our home theatre, and more than a pinch of peril. Despite the witch's sugar-coated cottage Hansel and Gretel is far from a candyfloss confection – but we're sure the children will find their happy ending.
As our Artistic Director, Richard Studer put it in his blog for our website:
"Fairy Tales are nightmare, not dreamscapes. They play on our primitive and primordial fears. They are the knock in the dark, the crack of a branch, the footstep on the stair rousing you from your slumber. They are our first moral compass and a navigational tool to steer us through childhood, to warn of the consequences of erring in our youthful ways. Stray from the path and punishment is swift. Trespass upon the forbidden bridge, leave the yellow bricks, taste forbidden fruit and you damn yourself forever more, for the wolf (or the troll) will surely get you. In a world of princesses and dragons, witches and godmothers, Death is Grimm, rarely humane and usually extraordinarily elaborate…"
Our productions are sung in English and the focus is on storytelling. Whether you've always loved opera or never seen one before please come along and join us for our 'Witch's Ride' – shows start at 7pm to make sure everyone can be safely tucked up in bed after the performance – we wouldn't want anyone wandering from the path in the dark now would we…who knows who they might meet?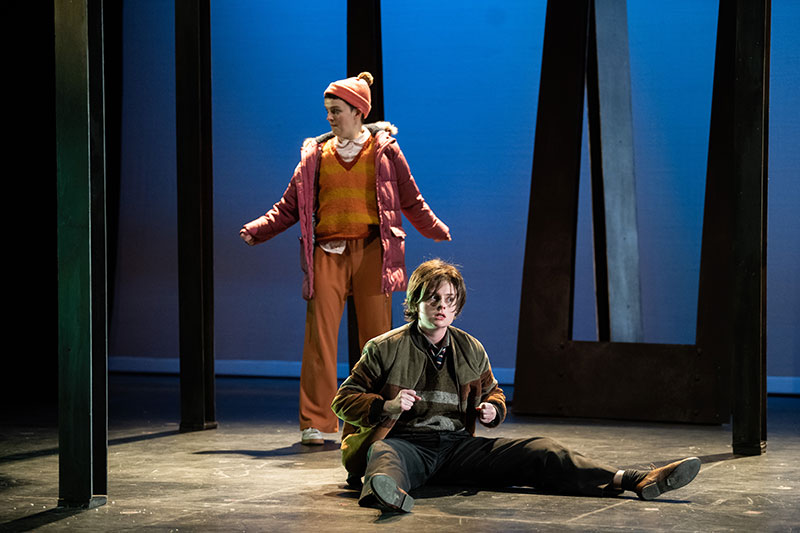 TORCH THEATRE NEWSLETTER
Get in the Spotlight!
Want to be the first to hear about upcoming performances, exclusive ticket offers, and behind-the-scenes action at the Torch Theatre? Subscribe to our newsletter and let the drama come to you.