TORCH THEATRE PRESENTS SUNSET CINEMA 2023
Since 2015, the Torch Theatre's Sunset Cinema has been entertaining thousands of people of all ages as it takes its big screen to some of our most beautiful locations and landmarks across the county. This year is no exception and we're delighted to announce a great programme of movies and continuing our commitment to access and inclusivity for all across Pembrokeshire.
From Dewslake Farm Campsite to Kidwelly Castle, Sunset Cinema, the outdoor film screenings will tour to 12 different locations from Friday 28 July through to Saturday 2 September showing some great favourite films such as The Greatest Showman to Matilda the Musical. 
As a not for profit organisation, the Torch Theatre's ambition with Sunset Cinema, in partnership with venue partners across Pembrokeshire, is to reach new audiences, taking our high-tech equipment on tour to ensure hundreds of people can enjoy a wonderful night's entertainment, close to home and accessible for everyone.
Chelsey Gillard, Torch Theatre's Artistic Directors explains more:
"We are thrilled to be out and about, across Pembrokeshire and beyond, with Sunset Cinema again this summer. There's loads of cinematic treats for the whole family at a range of iconic locations across west Wales; from castles, to sunflower fields, to rugby pitches and country parks. We can't wait to be on the road again working in partnership with so many amazing venues and organisations to ensure we give everyone a warm welcome and create unforgettable experiences for communities across the county."
The much loved outdoor cinema experience is popular with adults and children alike and gives viewers a magical experience under the stars. And it's not only an opportunity to watch your favourite film, but you can also see what each venue has to offer on a late-summer evening.
Some venues will also offer music, food stalls, a café and bar to enjoy before and during the movie. Each venue is different and should be contacted individually to see what they offer.
Sunset Cinema will go ahead if it rains on the night and will only be cancelled if we have very strong winds. You are advised to take a warm blanket and chair. Wheelchair accessibility/facilities for those with a disability are available at most venues but it's advised to confirm with each place.
For further information or to book your tickets, click here or call our friendly Box Office team on 01646 695267. Tickets can also be purchased at each venue on the night of the screening.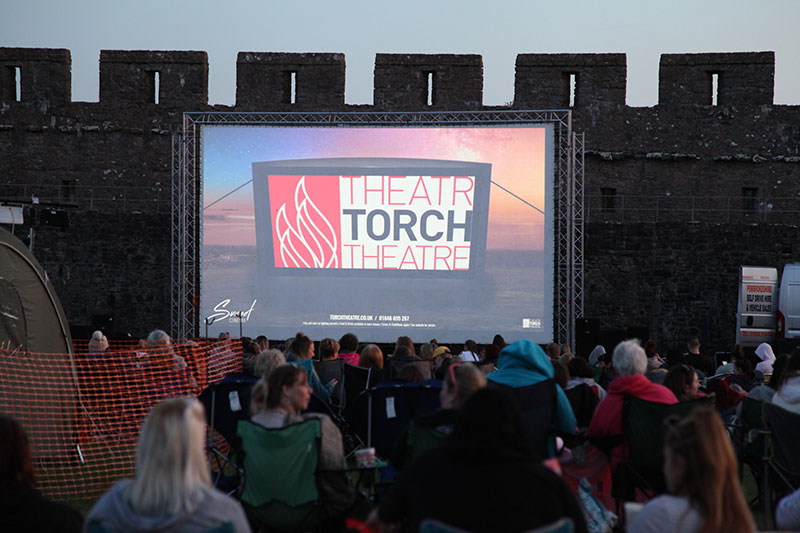 TORCH THEATRE NEWSLETTER
Get in the Spotlight!
Want to be the first to hear about upcoming performances, exclusive ticket offers, and behind-the-scenes action at the Torch Theatre? Subscribe to our newsletter and let the drama come to you.