TIC TOC - A GLORIOUS ROMP WITH LOTS OF LAUGHS AT THE TORCH THEATRE!
Tic Toc is a musical tale of a close knit group of friends who worked together in a factory. They sang, laughed and danced together finding strength in friendship while around them the world was changing. Then came a tear in the future of that friendship. And now a reunion's been planned... but one of them hasn't been invited! 
Tic Toc, a bilingual show written and directed by Valmai Jones from Parama2 will visit the Torch Theatre, Milford Haven on Thursday 23 March. It pays homage to the factory women in a show that's based on their stories and reminiscences. Join them to re-live those memories as they gather to re-create the good times and become young jivers again! 
Featuring the excellent cast of singer and comedian Gillian Elisa, Lowri-Ann Richards, Clare Hingott, Olwen Rees and Mary-Anne Roberts, Tic Toc will appeal to all theatre and musical theatre lovers, especially those who enjoy a story of strong willed, independent women, paving the way for women's equality and fair play.
Fans of Billy Elliot will recognize Gillian Elisa as 'Grandma' who she played in the West End for five years. Gillian also played 'Nana Pat' in Ruth Jones's Sky 1 hit series Stella. She has worked extensively in both Welsh and English television, and theatre, playing characters such as Sabrina in Pobol y Cwm, Detective Sergeant Allison Griffiths in A Mind to Kill (with Philip Madoc) and Nessa's lingerie seller in Gavin and Stacey.
Performed prior to the covid pandemic at several locations across Wales, Tic Toc is back on the road again visiting several venues over the next few months.
The show has proved to be very popular with audiences across the country.
"What a glorious romp! Parama2 gives us an all singing, all dancing frolic of a performance with everybody on that stage playing to her natural strengths effortlessly and with joy. Prepare to tap your toes and reminisce," said an audience member.  
Tic Toc will visit the Torch Theatre on Thursday 23 March at 7.30pm. Tickets are £15.00. £12.00 concessions. Tickets can be purchased from the Torch Theatre's Box Office on 01646 695267 or here
Photography - Kirsten McTernan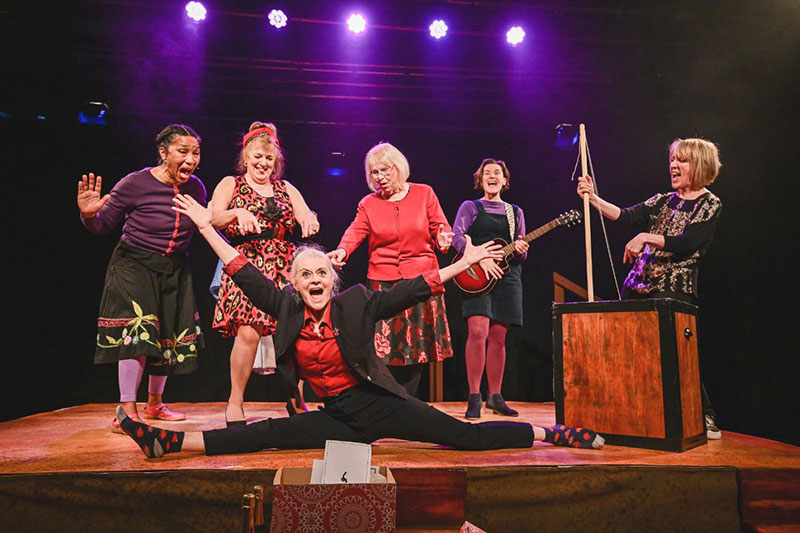 TORCH THEATRE NEWSLETTER
Get in the Spotlight!
Want to be the first to hear about upcoming performances, exclusive ticket offers, and behind-the-scenes action at the Torch Theatre? Subscribe to our newsletter and let the drama come to you.