TORCH GOES GREEN WITH CLOTHES SWAP EVENT
Following a hugely successful clothes swap event that coincided with the screening of documentary Fashion Reimagined, the Torch Theatre, Milford Haven has decided to host yet another clothes swap event on Saturday 20th May and these events will be held bi-monthly.
This May event will coincide with the film Joyland, where the youngest son in a traditional Pakistani family takes a job as a backup dancer in a Bollywood-style burlesque. He becomes infatuated with the strong-willed trans woman who runs the show.
The popularity of the last clothes swap event held at the Joanna Field Gallery surrounded by wonderful artwork took the Torch Theatre by surprise. But as Tim Howe, Senior Manager Youth and Community explains, making the Torch inclusive and environmentally friendly is the goal.
"We have a responsibility to our planet and we were overwhelmed here at the Torch by the warm response to our first clothes swap event and acknowledge the generosity of our community. We recommend you see some of the fantastic films that take place before and after our event but there is no obligation to do so to take part in the clothes swaps."
The Torch Theatre accepts pre-loved children's and adult's clothes, shoes and accessories, and as long as you bring something along you can swap it for something else.
"It was amazing to welcome so many people into our building for the last clothes swap! The Torch was buzzing with people looking to make a change to their wardrobe, enjoying a hot drink and cake from our kiosk, or chatting away to one of our team members," explained Tim who is a new face at the Torch, along with Artistic Director, Chelsey Gillard.
Tim concluded: "It was a really special moment for Chelsey and I. We are always looking at opportunities to do more community wide environmental events as we try to become a greener venue. We've been working hard to lessen our impact on the planet; we've changed the way we use energy in our building, as well as being more responsible with the way we use (and re-use) our sets and costumes, so a clothes swap seemed like the next brilliant step. We are also aware that everyone is being more cost conscious at the minute and looking to make savings where they can. We know that our clothes swaps are not just excellent for the planet they're great for your pocket too!"
A warm welcome is extended to all to attend the next Clothes Swap event on  Saturday 20th May at 5.30pm before the screening of Joyland at 7.30pm (age restriction 15). The July event will be on Sunday 23rd at 2pm.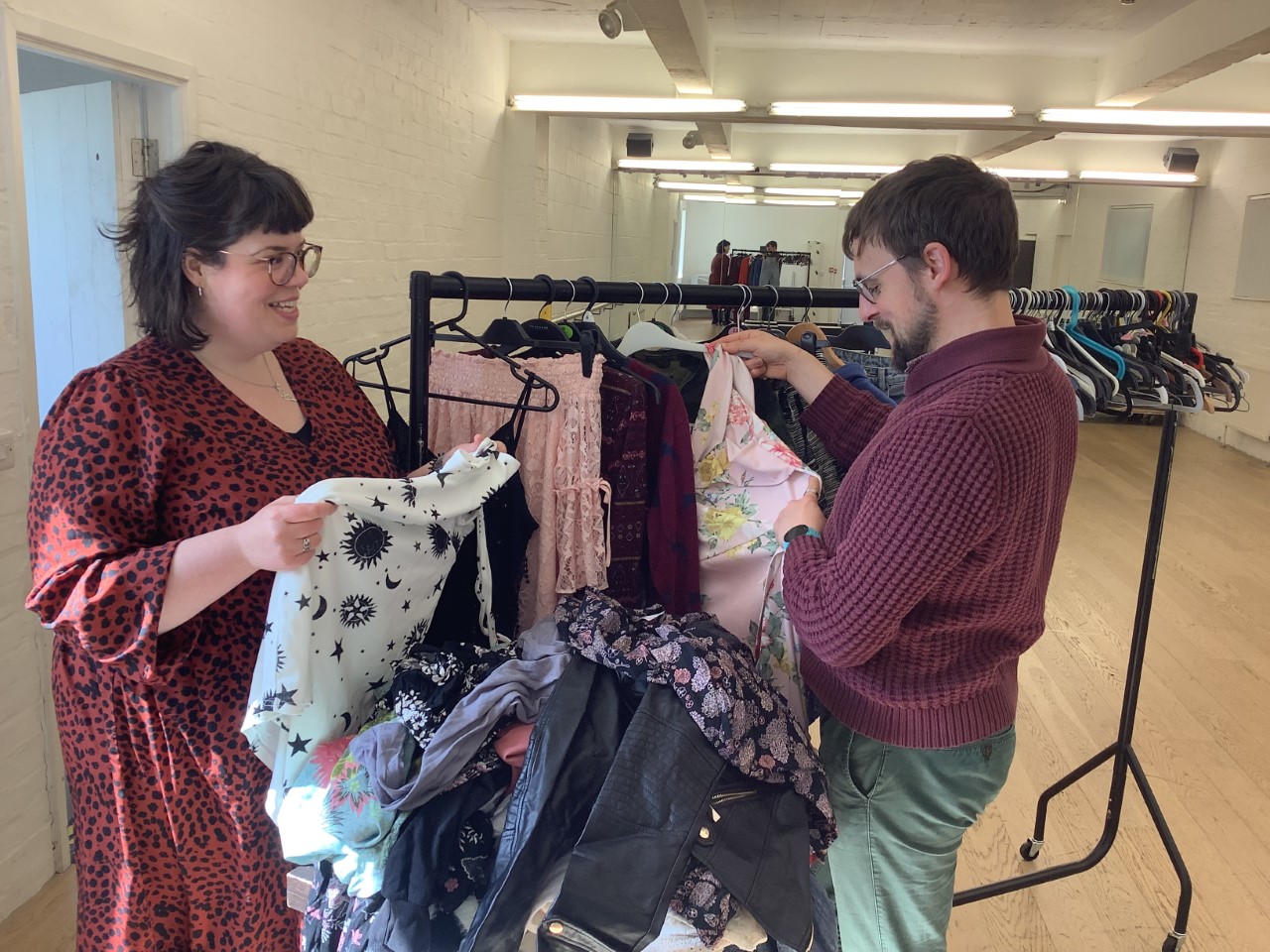 TORCH THEATRE NEWSLETTER
Get in the Spotlight!
Want to be the first to hear about upcoming performances, exclusive ticket offers, and behind-the-scenes action at the Torch Theatre? Subscribe to our newsletter and let the drama come to you.