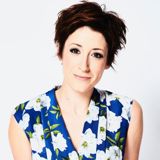 Connie Fisher - Torch Theatre Patron
The Torch Theatre has played a massive role in my development as a performer. For me it's been a very special place, a place of opportunity and a place to play - from my early beginnings as a teenager in the Torch Youth Theatre Company to gaining my first professional job in pantomime - exploring the professional world of theatre.
I remember begging my parents to drive me all the way from Hayscastle to Milford Haven to watch plays I had never even heard of and feeling high on theatre as I left the auditorium.  
I remember the excitement as I took the stage in my first professional role as Princess Samina, waving my papier-mache legs (convincingly) on Aladdin's red carpet. 
I remember spotting those supportive faces in the audience whilst singing and feeling the warmth of their applause as we took a bow.
It was the place where I first discovered that you could actually do this for a living, it was the place that helped me in my transition from amateur to professional, and it's a place that will always have a place in my theatrical heart. Thank you, Peter, and everyone at the Torch for all the opportunities you have given me and others over the past 40 years. The Torch has shaped who we are, as performers and as people.
TORCH THEATRE NEWSLETTER
Get in the Spotlight!
Want to be the first to hear about upcoming performances, exclusive ticket offers, and behind-the-scenes action at the Torch Theatre? Subscribe to our newsletter and let the drama come to you.