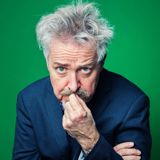 Griff Rhys Jones OBE, Torch Theatre Patron
Griff Rhys Jones first came to public attention in the hit sketch show of the 1980's "Not the Nine O' Clock News". This was followed by "Smith and Jones", which won an International Emmy and several British Comedy awards during its successful 11 series run in the eighties and nineties.
On stage he has worked with Sam Mendes, Alan Ayckbourn, Nick Hytner and Sir Peter Hall. He has directed for the RSC and played leading roles in the West End in "An Absolute Turkey," "Trumpets and Raspberries", "Charley's Aunt", "Arturo Ui" and "Plunder". He was the original Toad in Alan Bennett's "Wind in the Willows" at the National and Hildy in "The Front Page" at the Donmar. He played the Royal Opera House, performing Frosch in John Mortimer's adaptation of "Die Fledermaus". He was Fagin in "Oliver!" at Drury Lane in 2010. Griff has won two Oliviers, the acting profession's premiere award, and been nominated five times.
On film Griff has starred in "Morons from Outer Space", "Wilt" (for which he received a British Comedy award), "Puckoon", "Up 'n' Under" and "As You Like It." Television drama includes Max in Russell T. Davies' "Mine All Mine" "Demob" and recently "Ordinary Lies" and "Murder on the Blackpool Express".
With Mel Smith he set up Talkback as a radio production company. It became the most successful radio creative house in the world and diversified into television in the early Eighties. Before it was sold in 2000, Talkback Television had produced a lot of award-winning television as diverse as "The Little Prince", "Grand Designs" and "The Apprentice" and launched the careers of Chris Morris, Armando Iannucci, Steve Coogan and Sacha Baron Cohen amongst many others.
Recently, Griff has worked mainly as a television presenter, introducing Bookworm and The Nation's Favourite Poem, making three series of "Restoration", and writing and presenting documentary films on Arthur Ransome, Rudyard Kipling, John Betjeman and Thomas Hardy. In 2007 Griff made "Mountain" for BBC 1 and then two years later, "Rivers". He has also travelled the world for ITV, making "Greatest Cities." Two series of "A Pembrokeshire Farm", showing Griff's struggle to renovate a Welsh farm were broadcast in 2007 and 2009. He filmed five series of "Three Men in a Boat" for BBC2, "Slow Train through Africa" for ITV, "Burma, My Father and the Forgotten Army" for BBC2, Griff's personal journey following in his father's WW2 footsteps.
He sailed his classic yacht to St Petersburg in 2002. The account of that trip "To the Baltic with Bob" was followed by his autobiography "Semi Detached", a best seller and one of Richard and Judy's book club choices. He has also written books for the Mountain and Rivers TV series and recently published "Insufficiently Welsh" following his ITV series about Wales. He made a quiz programme "The Quizeum" for BBC4.
Griff recently played the lead role in "The Miser" by Moliere in the West End and appeared on Celebrity Bake Off. Since then he has been touring his one man shows "Where was I?" and "All Over the Place" around Britain. He can currently be seen on Channel 4 in Griff's Canadian Adventures.
He spent many years fund-raising to restore the Hackney Empire, is a patron of many other charities and the President of Civic Voice and the Victorian Society. He is married and has two grown-up children.
TORCH THEATRE NEWSLETTER
Get in the Spotlight!
Want to be the first to hear about upcoming performances, exclusive ticket offers, and behind-the-scenes action at the Torch Theatre? Subscribe to our newsletter and let the drama come to you.