BLOG NO. 6 - TIM HOWE
Hello Shwmae,
My name is Tim and I am the Torch Theatre's brand new Senior Manager for Youth and Community.
It has been a busy start to 2023 for me – but I couldn't have asked for a better place to be doing it. It is never easy starting a new job, moving to a new home, and making new friends. However, everyone I have met, audiences, participants, and colleagues have made me feel very welcome, and I cannot wait to meet even more of you from across Pembrokeshire and the whole of West Wales.
I am sure some of you are wondering what my role is… well a bit like a well-known paint brand used to say, "It does exactly what it says on the tin". I have the immense pleasure of overseeing all our work with young people, educational establishments, community groups of all shapes, sizes, and interests, as well as the amazing non-professionals from across our area who we welcome to the building each week. We have so many amazing ways of getting involved with Torch theatre, such as our acclaimed Youth Theatre for 8 to 18 year olds (which I run), our fantastic community choir Torch Voices led by Angharad Sanders, My Moves (a disability movement group in association with Pembrokeshire People First), Baby Steps (A parent and baby group run by Arts Care Gofal Celf), as well as Welsh National Opera's Dementia singing group, the Cradle Choir.
On the 19th Feb we are delighted to be offering our first creative writing workshop for adults, closely followed by three days (20th, 21st and 22nd Feb) of creative writing with young people aged 15 – 18. More information on how to get involved with either of these can be found here.
But that is not all, we also offer workshops, backstage tours, and work placements. I also have plans afoot to offer even more opportunities in the very near future so please keep your eyes on our social media for the latest ways to 'Get Involved'.
All of us at the Torch passionately believe that every person can find a space here, but we also know that we may not yet provide that for you. That is what I am here for – to help you find the perfect way for you to be part of what we do. I am keen to work with everyone to help you make the most of having one of Wales most prominent producing houses right on your doorstep.
You really are spoiled for choice when it comes to be part of the action here at the Torch, and that's before being able to access some of the best films, thrilling theatre, and live music in one of our two auditoria. There are so many amazing things coming up for you to see – my diary is already starting to fill up! In March I'll be looking forward to the Torch hosting the multi award winning Shôn with his production; Still Floating. I saw his last production Possible, and if that is anything to go by, we are in for a thought-provoking evening of theatre with this production. In complete contrast, I'm also getting ready to jive along to the bilingual musical Tic Toc, which comes to our main stage this March. As someone who was bought up on the movie musicals of the 1950s and 60s I love the opportunity to see and hear something new in a genre that holds so many happy memories for me.
I look forward to seeing you at one of our events in the coming weeks and months, and if you see me around the building, or in the street, please do not hesitate to say 'Hello'.
If you would like more information on anything I have mentioned, to begin your creative journey, or just to arrange to chat over a coffee about what we might be able to do for you or your group, please contact me via email tim@torchtheatre.co.uk or call 01646 694192.
Photo by Chris Lloyd.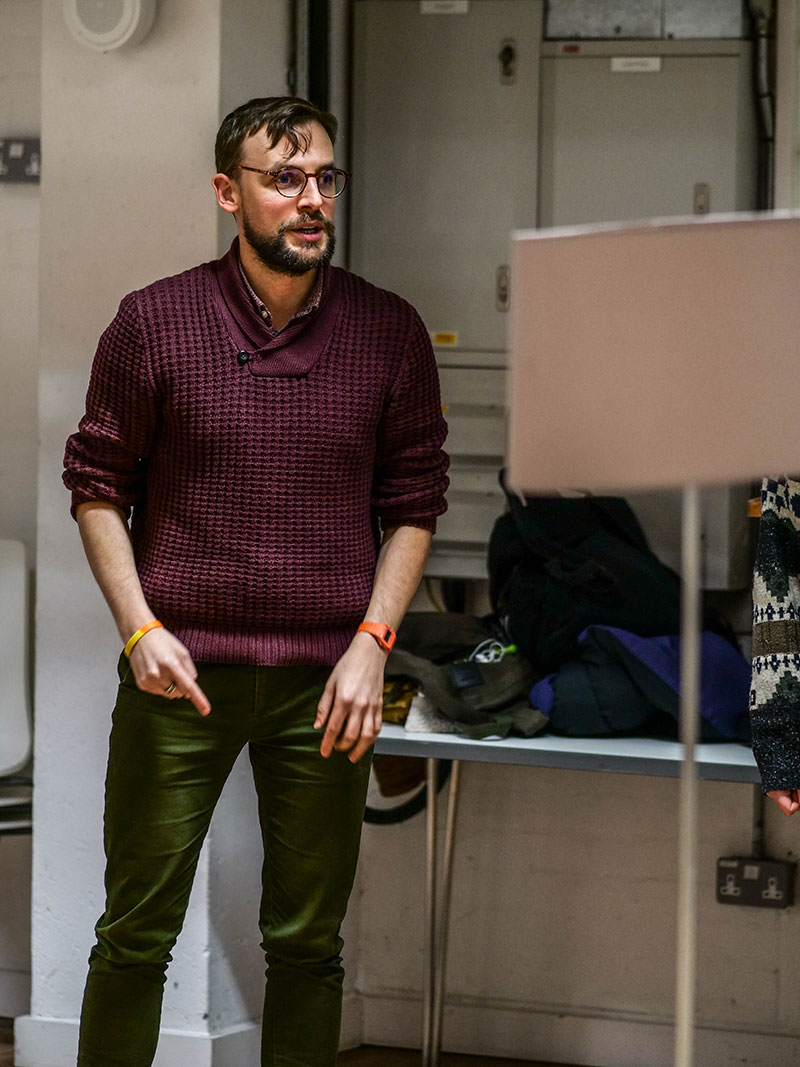 TORCH THEATRE NEWSLETTER
Get in the Spotlight!
Want to be the first to hear about upcoming performances, exclusive ticket offers, and behind-the-scenes action at the Torch Theatre? Subscribe to our newsletter and let the drama come to you.